Upholstery Cleaning Service
Upholstery cleaning can really make a huge difference in your home. Dust and dirt particles settle on upholstered surfaces, then mingle with trace oil and grease when someone wearing shorts or skin-baring clothing sits on them. UCM Carpet Cleaning of Boston can resolve this issue in no time.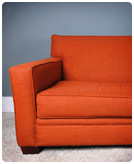 No Need to Buy a New Sofa
No matter what fabric covers your sofa, cushions, pillows and car seats, thorough cleaning at regular intervals is called for. With our affordable upholstery cleaning service upholstery stays cleaner, fresher and looking newer.
One Stop for All Your Cleaning Needs
It doesn't matter if you want us to clean your sofas, love seats, dining chair, arm chair recliners or grandma's favorite rocker.
Our staff is licensed, bonded & insured. Years of experience in dusting, vacuuming, shampooing, sanitizing, disinfecting, and deodorizing ensures you get the best cleaning possible. UCM Carpet Cleaning of Boston uses both steam cleaning and dry cleaning methods for upholstery, on site at your residence or business. Think of us as your fiber caretakers & maintenance providers.
Pre-inspection at No Cost
When our technicians arrive at your home, they will perform a free inspection, with no obligation to purchase. Our technician will recommend the best cleaning method for your upholstery and the cleaning session will begin. In no time at all your upholstery will be velvety smooth and vibrant again.
Our upholstery cleaning service is just another example of how easy and affordable UCM Carpet Cleaning of Boston makes the whole process of home, office, and auto cleaning in the Boston area.
Upholstery Cleaning by UCM Carpet Cleaning of Boston
Our upholstery division offers the following premier upholstery cleaning services:
• Leather cleaning
• Upholstery steam cleaning
• Commercial upholstery cleaning
• Cleaning product upholstery
• 24/7 Emergency Services
Get your favorite sofa cleaned for an affordable price by a reputable service Call us today.