Hardwood Floor Refinishing Service
Refinishing & Cleaning Wood Floors
There's nothing quite like hardwood floors for that feeling of warmth, elegance and sophistication. What's more, hardwood floors are a sound investment in your home that last a long time - as long as you know how to take care of them.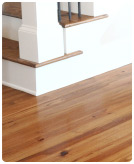 UCM Carpet Cleaning of Boston asks you to consider what you have stepped on, or in, today. Particles of sand and dirt sticking to the bottom of your shoes act like sandpaper on your hardwood floor, grinding and scratching the finish down ever so slightly every time you take a step! What else is stuck to the bottom of your shoes? Oil, grease, grass, bugs? Does it end up leaving its mark on your floor?
We can tell you that even if you can't see it, the grime is there. And even if you are conscientious about daily vacuuming and giving the floor a once over with a mop, you are compromising the optimum lifespan of your hardwood floors. Why risk permanent damage or staining? Call the professionals at UCM Carpet Cleaning of Boston for a free estimate today. Hardwood floor cleaning is not as expensive as you might think - especially when you consider how much restorative services cost in comparison.
Original Hardwood Flooring
Hardwood flooring is a long-lasting floor treatment that has varied in popularity over time. When wall-to-wall carpeting was all the rage, many homeowners simply covered up beautiful wooden floors with plusher, toe-tickling floor coverings. Now, many people are rethinking their choice; home buyers are pulling up carpets to discover hardwood floor treasures. Now is the time to call UCM Carpet Cleaning of Boston. Our hardwood floor cleaning staff is known throughout Boston for being the best at all wood floor preservation and hardwood floor rejuvenation techniques. From sanding hardwood floor surfaces, hardwood floor cleaning, hardwood floor repair and hardwood floor refinishing, UCM Carpet Cleaning of Boston has earned a blue ribbon reputation. We use only professional hardwood floor cleaning equipment and cleaning products.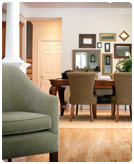 As long as our team of technicians is already at your home, ask them to handle all the house cleaning chores you've been avoiding: mattress cleaning, leather cleaning, tile and grout cleaning (including countertops and tile floor cleaning), carpet and upholstery cleaning, area rug and Oriental rug cleaning, window treatment cleaning, and tougher problems like pet stain and odor removal from carpet. UCM Carpet Cleaning of Boston has a special "Clean My Closet, Please" service, as well.
Hardwood Floor Cleaning Tip:
Keep your hardwood floors clean and shiny in between visits from the hardwood floor cleaning crew from UCM Carpet Cleaning of Boston by first vacuuming or sweeping and then a quick swipe with a damp mop.
One address for all your cleaning needs...
UCM Carpet Cleaning of Boston is a highly professional, popular cleaning service for homes and offices in Boston. In addition to hardwood floor cleaning, our range of services includes: upholstery cleaning / furniture cleaning, carpet cleaning, tile and grout cleaning, move in and out cleaning, auto interior cleaning, fire damage restoration, air duct cleaning, and more. Call us today for a free estimate.