Air Duct Cleaning Service
Stifled for fresh air indoors? It may be possible that your home or business premises could use some air duct cleaning work. Amongst the many services we offer, UCM Carpet Cleaning of Boston is known for the quality and high standards of the air duct cleaning services.
It is not for nothing that UCM Carpet Cleaning of Boston is Boston's number one source for air duct cleaning experts. Our air duct cleaning techniques and our overall reputation as the city's leading one stop shop for all your cleaning requirements is your guarantee for the best cleaning service.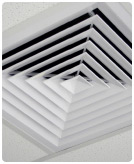 Clean Indoor Air
Cleaning the air ducts will have a significant impact on your family's health and will be felt immediately by allowing fresh air to flow into your home. We have invested heavily in the latest state of the art cleaning equipment to keep your filtration system in 100% condition all year long. Air pollutants and airborne contaminants are our biggest enemy and we provide the service to keep your HVAC (air condition and heating systems) ducts in tip top condition 365 days a year.
UCM Carpet Cleaning of Boston takes care of indoor air quality at commercial premises too. If your customers are having trouble breathing, then they will rapidly take their business elsewhere. Dust mite, mold, mildew, pollen, bacteria, and dust are only a few of the irritants that can lurk in your HVAC system.
The Benefits of Clean Air Ducts
Our air duct cleaning service has other potential benefits beyond keeping your indoor air clean. Like saving you money on your heat and electric bill as your HVAC system works more efficiently. And dryer vent cleaning can literally save your life, as clogged dryer vents are potential fire hazards.
The air duct cleaning equipment used is not only economical, but also very efficient. Plus, you will be surprised to find out how little this effective service costs! Our 100% satisfaction guarantee drives us to provide the highest standards of service and to help you reduce dust in your home or office to control allergies and asthma.
If you want to breathe free and easy, give UCM Carpet Cleaning of Boston a call at 617-532-1918 to schedule an air duct inspection visit. A member of our staff will visit your home or your place of business in order to provide you with full details of our service along with a non obligatory free estimate.